Share
Commissioned work for Central Highland Arts Atlas
For My Australia Photo Exhibition at the Backspace Gallery from March 28th – April 14th 2013 Alfred Deakin Place Ballarat I set up a temporary Open Photographic Studio and invited the public to come in to be photographed by me or themselves using a camera remote control. My latest article features an Indian born Priti Mehta, who visited my studio recently. Priti specialises in Art of Henna and Indian Wedding Decorations.
Priti was born and grew up in a small village in the state of Gujarat, India  where she completed her education and finished a bachelor of science degree. She came to Australia in 1996 and continued on to do further studies in information technology and food science all whilst having and raising two daughters.
Priti is a henna tattoo artist and does traditional Indian, ethnic, modern/contemporary and exotic designs on various parts of the body including bridal henna for weddings growing in popularity in Australia. Doing henna art is her hobby she has been practicing since she was about 10 years old.  Drawing on many artistic and fancied designs, most of them are inspired or sourced from Indian and Arabic culture.
Priti has always enjoyed art and decorating and has done many henna workshops for festivals,  multicultural events, corporate functions, school fundraising, hospital, comminity and charitable programs, birthday parties, hens night, baby showers, and many others.
She has recently established a wedding decorating business Indian Wedding Decorations, where she draws on her artistic skills and knowledge in creating unforgettable memories.  Her hobby as a henna artist and now as a wedding decorator is the most enjoyable activity for Priti and the joy it brings to others provides great inspiration and satisfaction.
Traditions
Henna is traditionally used for special occasions like holidays, birthdays and weddings in Africa, Pakistan, India, and the Middle East. The most popular of the traditions is the Mehndi (henna) Night where the bride, her family, relatives and friends get together to celebrate the wedding to come.  The night is filled with games, music and dance performances that may have been rehearsed for months prior to the event by those closest to the bride while the bride gets extensive henna patterns done on her hands and feet that go to her elbows and sometimes, knees.  The bridal patterns can take hours and are often done by multilpe henna artists.  The guests will usually receive small designs (tattoos) on the backs of their hands as well.
Today, brides prefer to have their henna done prior to the mehndi night so that they can enjoy the festivities and also have a deeper stain by the wedding day.
Tradition holds that for as long as the henna stain appears on the bride, she doesn't have to do any housework. The darker the stain the better the marriage and the better the mother-in-law will be!
Priti Mehta, 0403 890 101
http://indianweddingdecorators.com.au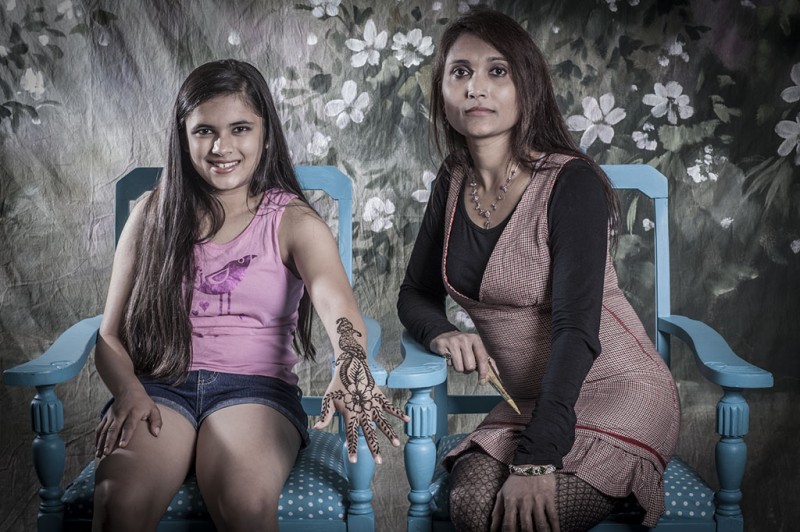 This interview and short timelapse video was produced for the Central Highlands Arts Atlas [artsatlas.com.au], with thanks to Vic Health, Central Highlands LEAP project, Ballarat Arts Alive & the City of Ballarat.
Editing, interview & photography: Aldona Kmieć Photographer www.aldonakmiec.com
*If you know artists from a migrant or multicultural background living in Central Highlands that would like to be featured on Arts Atlas, please get in touch.
 Indian Wedding Decorators