I acknowledge the Traditional Custodians of the land on which I live and make work: Wadawurrung and Dja Dja Wurrung, Wurundjeri and Gunaikurnai people of Victoria.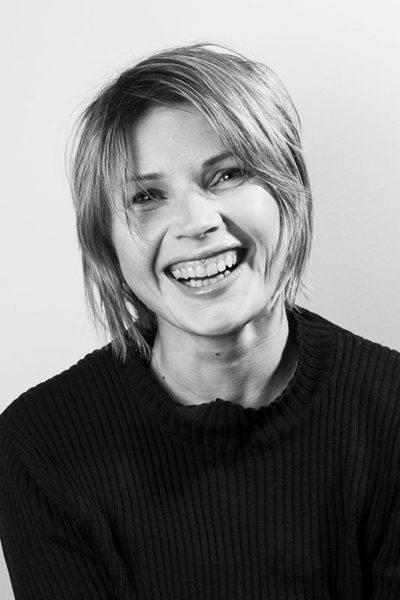 Aldona Kmieć is a Polish-born visual artist and photographer who has lived in Australia since 2009, and is currently based in Melbourne. Born in 1977 near Częstochowa in Poland, her adolescence coincided with the collapse of communism in Soviet-era Poland. Before migrating to Australia, she studied Photography at London Metropolitan University.
Her work focuses on the concepts of cultural identity, place and the broader migrant experience in Australia and abroad. Her arts practice explores the intersection between conceptual and documentary photography. Socially focused, it operates from a strong base of community engagement with culturally diverse people and communities who are often overlooked and live at the margins of society.
Aside from portrait, landscape and documentary photography, Aldona has worked on site-specific installations such as In the Process of Healing (2017), street art projects We R You Ballarat Faces (2013), undertook artist residencies Under the Floorboards, Uniting Care (2013) and Biennale of Australian Art BOAA (2018).
Between 2020 and 2022 Aldona worked on two photography commissions from the State Library of Victoria, documenting the effects of bushfires and the Covid-19 pandemic on regional communities. Recently, she has been commissioned by St John of God Health Care to create works for their permanent Art Collection "Hospitals as a Place'.
Available for commissions.
Born 1977, Poland
2004 – 2009 London, UK
2009 >  Ballarat, Melbourne, Gippsland Australia
COLLECTIONS
State Library of Victoria, St John of God Art Collection, Ballarat Arts Foundation, Museum of Democracy at Eureka + private collections
EDUCATION  
2008 Higher National Diploma in Photography | London Metropolitan University
ARTIST RESIDENCIES
2018 BOAA Biennale of Australian Art | Ballarat Mining Exchange
2013 Under the Floorboards | Uniting Ballarat
2013 We R You Paste-up Project Facilitator | City of Ballarat
AWARDS
2023 Finalist | Kennedy Nyland Photography Prize
2022 Finalist | Maggie Diaz Photography Prize for Women
2018 Finalist | Cambridge Studio Gallery Portrait Prize
2018 Finalist | Art Lovers Australia Prize, Gold Coast
2018 Finalist | Contemporary Art Awards, Brisbane
2017 Finalist | Maggie Diaz Photography Prize for Women
2017 Winner 3rd Prize | Airbnb, Fear of Flying story
2016 Finalist | Eureka Art Prize, Ballarat Arts Foundation
2015 Finalist | The Maggie Diaz Photography Prize
2014 Winner | Eureka Art Prize Ballarat Arts Foundation
2014 Finalist | Bowness Photography Prize MGA Gallery, Melbourne
2014 Finalist | Head On Photo Festival Portrait Category Sydney
2013 Winner | CCP Leica Salon | Centre of Contemporary Photography Melbourne
2013 Winner | Eureka Art Prize Ballarat Arts Foundation 
2012 Honourable Mention Fine Art Black & White Spider Awards
2012 Published Finalist 'My migration. Moja Emigracja' book ISBN
2011 Terry O'Neill Photography award long-list, London UK
2008 Winner End of Year Best Photo Competition, AOP Gallery London UK
ART GRANTS / COMMISSIONS
2023 Hospitals as a Place, St John of God Art Collection photography commission
2022 State of Change: documenting COVID-19 pandemic in regional VIC, State Library Victoria
2020 Focus on Country Victoria: Regional & rural stories, State Library Victoria
2017 Paste up Photography Project Grant, East Gippsland Council
2013 Under the Floorboards Photography grant, Uniting Care Ballarat
2013 We R You Paste-up Project Facilitator, City of Ballarat Council
2011 Visual Arts Grant – Photography, BAF Ballarat Arts Foundation
SOLO EXHIBITIONS
2023 Winterbloom | Ballarat International Foto Biennale, RACV Goldfields (Aug – Dec)
2017 In the process of Healing | Ballarat International Foto Biennale
2015 Dreamscapes | Ballarat International Foto Biennale 
2013 Australia, a New Chapter | Ballarat International Foto Biennale 
2013 My Australia | Backspace Gallery Ballarat
2011 Transient | Ballarat Intl Foto Biennale | Craig's Royal Hotel Ballarat
GROUP EXHIBITIONS
2023
2023 Polish Art Foundation Contemporary Drawing Biennale | No Vacancy Gallery, Melbourne (Oct)
2023 Hospitals as a Place exhibition | St John of God Health Care HQ, Perth WA (upcoming)
2023 Erased – The Real Thing | Core Program – Ballarat International Foto Biennale (Aug – Oct)
2022
2022 CCP Summer Salon | Centre for Contemporary Photography, Melbourne
2022 Head On Photography Festival 'Add On' | Bondi Pavilion Sydney
2022 Borders | Polish Art Foundation, Victorian Artists Society (VAS) Melbourne
2022 Maggie Diaz Photography Prize for Women Finalists | Brightspace Gallery, St Kilda
2022 State of Change: Regional & rural stories of 2020 touring exhibition (Colac, Bright, Geelong)
2022 Banyule Art Salon | Ivanhoe Library and Cultural Hub, Melbourne
2021
2021 Faces of the Polish Community | Polish Art Foundation, VAS Melbourne
2021 Regional bushfires and COVID recovery | State Library Victoria, Melbourne
2021 STAGES: life in lockdown | Monash Gallery of Art, Melbourne
2021 CCP Salon | Centre of Contemporary Photography, Melbourne
2020 Vibes | Victorian Artists Society, Melbourne 
2020 Members Group Exhibition | Centre for Contemporary Photography, Melbourne
2019 Colours of World Cultures | Backspace Gallery, Ballarat
2019 Beyond 50% | Backspace Gallery, Ballarat
2018 Pol-Art Festival QCA Galleries South Bank, Brisbane
2018 BAF Eureka Art Award Finalists | Post Office Gallery, Ballarat
2018 Mixed Blessings | Mercure Hotel & Convention Centre, Ballarat
2018 Open studio ArtWalk | Soldiers Hill Artist Collective, Ballarat  
2018 Portrait Prize | Cambridge Studio Gallery, Collingwood 
2017
2017 Our Place – Soldiers Hill Artist Collective | Backspace Gallery Ballarat
2017 Maggie Diaz Photography Prize for Women | Brightspace Gallery, St Kilda
2017 BAF Eureka Art Award Finalists | Ballarat Art Gallery
2016
2016 BAF Eureka Art Award Finalists | Post Office Gallery, Ballarat
2016 Impressions Polish Arts Foundation | Victorian Artists Society Gallery, Melbourne
2016 Linden Postcard Show | Linden New Art Gallery, Melbourne
2016 Self Portraits to Selfies | The Lost Ones Gallery, Ballarat

2015
2015 Pol-Art Festival | Steps Gallery, Melbourne
2015 Maggie Diaz Photography Prize for Women | Brightspace Gallery, St Kilda
2014 Eureka Art Prize Finalists | Post Office Gallery, Ballarat
2014 Bowness Photography Prize Finalists | Monash Gallery of Art, Melbourne
2014 Head On Finalists | Paddington Reservoir Gallery, Sydney
2013 Under the Floorboards | Art Gallery Ballarat
2012 Pol-Art Festival | Perth
2011 Lost in Translation – Collaboration with painter Casey Tosh, Portico Gallery, Ballarat
2011 AOP Association of Photographers Open Awards Finalists | Truman Brewery, London
RELATED EXPERIENCE
2019-23 Marketing, Video Production and Digital Project Management
2018 Gippsland Community Leadership Program Scholarship
2015-16 Community Advisory Committee Member | The Ballarat Courier newspaper 
2014 Ballarat Community Leadership Program Scholarship
2012-2014 Culture Diversity Advisor / Intercultural Ambassador, City of Ballarat
2010 Cert IV Small Business Management, Ballarat
2009-2015 Festival Production Team Member | Ballarat International Foto Biennale
2012-2015 Board Member | Ballarat Arts Alive
---
---
Occasional newsletter: