Share
Ever dreamt of a large photo mural wall from one of your holiday photos? I made it a reality.
I've always wondered whether it was possible to use one of my old photos and upsize them into much larger print and when I had the opportunity to be featured on The Design Files, I thought this is the time! The photo was taken on an Olympus CAMEDIA C-760 Ultra Zoom camera (the firs camera I was able to afford), which was at the time "the smallest lightest, at just 280 grams, digital camera in the world featuring an optical 10x zoom (equiv. 42 – 420mm on 35mm) and 3.2 megapixel"! Nowadays, just about any mobile phone has a larger resolution!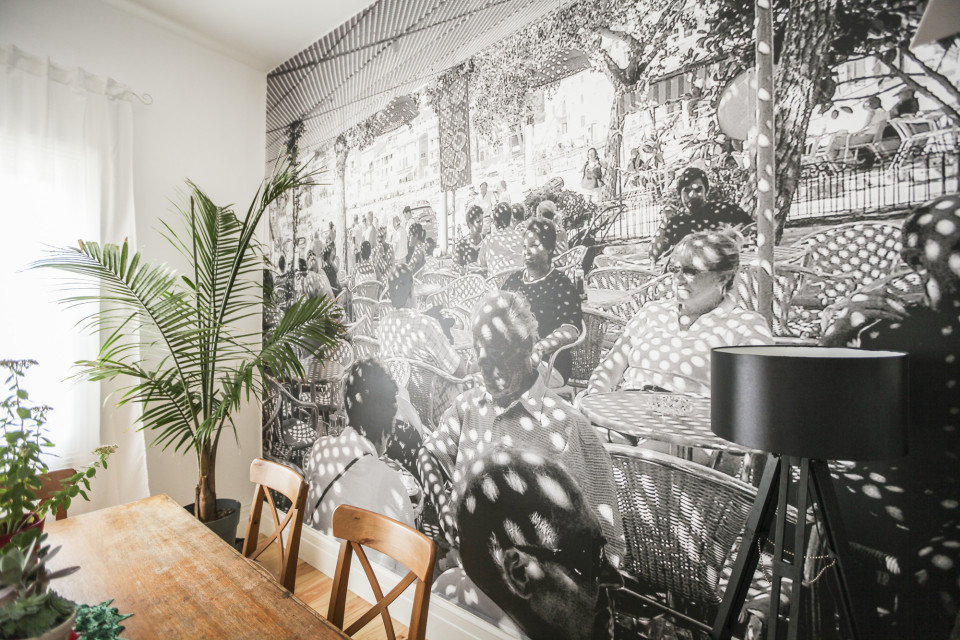 Cafe in Soler photo mural in my house was printed on high quality unique 100% opaque satin fabric which adheres to all smooth surfaces. Cut into 6 vertical pieces it can be installed, repositioned and reused as many times as you need without damaging your wall or the mural.
Client reviews:
"We had the pleasure of Aldona's photographic talents to record and capture the beautiful occasion of our wedding. Recently, we employed Aldona to align one of our chosen photographs, with the exact specifications of the wall space of our dining room. Aldona then had the image printed onto a very high quality canvas. In a very short period of time, the wedding image was printed and couriered to our home.
Installing the mural was quite easy and straight-forward, especially with a partner to help. It's like covering a book with contact, if you exchange the book for a wall.
At first I was a little worried about the size of the mural … or really the size of 'us' on the wall. I was wondering if the image might dominate the space of our dining room, but actually, once it was installed, it really worked. Initially, the space was a bit beige, but with the new mural, it looks great and really lifts the 'feel' of the room. Also, it's a really unique reminder of our wedding day."
Cam and Jen