Share
Ballarat International Foto Biennale 2011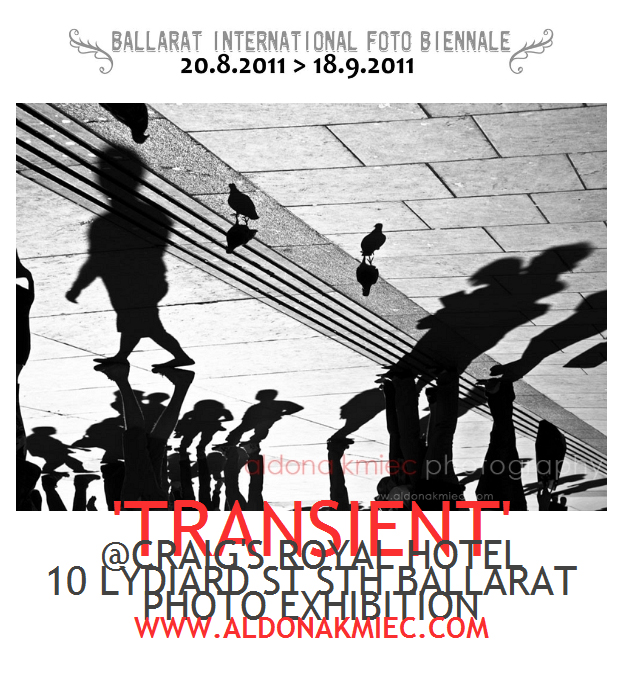 Pause and reflect: The journey behind the photo
 By ABC Open Producer Marc Eiden
Wed 07 Sep 2011
Polish born photographer Aldona Kmieć has lived a transient life. Globetrotting for ten years with camera in hand, Aldona's travels came to a screeching halt last year when she discovered Ballarat. Her photography however continues to roll.
I first met Aldona during a Now and Then workshop last year in Ballarat. She has become a key contributor to many ABC Open projects, and her skill with a camera and strong creative vision is evident in all her work. Check out her brilliant behind-the-scenes photo from the WxSW project.
Aldona can't remember the exact moment she first picked up a camera, but she's pretty sure it was her father's SMENA Russian rangefinder. Raised on a farm during communist Poland, Aldona became fascinated with photography by looking at old photos from her family collection. Her father's desire to see the world (despite not being able to travel) and passionate bedtime stories about faraway lands, captured Aldona's imagination and inspired her to document her own travels, friends and adventures.
"I started travelling and obviously I didn't want to lose any of those memories. Now I'm in a bit of trouble as I have ten years of photos, and millions of files, and I have to keep on top of that", she says.
For her fringe exhibition Transient at the Ballarat International Foto Biennale, Aldona delves into her rich archive of street photography. The exhibition chronicles her years of intrepid travelling, living between cultures and the flowing motion of being on the move. Aldona's Moment Behind the Photo story Personal Journey is a good indication on what to expect – the photo was taken on a bus trip in Morocco and is in her Biennale exhibition.
Aldona has always been fascinated by street photography and capturing what French photojournalist Henri Cartier-Bresson calls 'the decisive moment'.
"Some photographers wait for the opportunity. Some happen to have the opportunity play out in front of their eyes, and if they are lucky enough to have a camera with them they just go click and capture the frame. I really like doing this, it's like testing your intuition", she says.
After years of travel, Aldona found home in Australia and chose Ballarat to finally pause, reflect, and focus on her love of photography.
You can check out Aldona Kmiec's Transient exhibition now at Craig's Hotel in Ballarat during the Ballarat International Foto Biennale. My exhibition hardcover catalog featuring images from the show can be ordered online from Blurb.
Another review of my show by a Melbourne based photojournalist Joseph Feil, section: Solid Shows Worth a Look:
Aldona Kmiec: Transient – Venue 14 (F)
This was a surprise set of work that isn't perfect but had some genuine moments of wow! Essentially street / art photography in B&W, some of the images such as the multi-exposure Sumo and some of the upside down shadow prints were very strong. I like it.