Share
Everything you create is a reflection of you
If you don't have a personal connection to the story, it might not work out at all.  You're only going to tell the best stories when you can connect with them.
This is so true. It was always clear to me that if I didn't connect with the particular project, I wasn't participating in it enough. But this time the timing of my artist residency was particularly difficult for me – three months after starting the commission I have experienced a very traumatic event of a house fire in my close neighbourhood and, as a result I was close to losing my home.
This has really impacted me and I have developed a post traumatic stress after the event but has also brought me much closer to the people I was meeting through my residency.
One of the most memorable days I remember was a visit to a residential care home. I learnt a story of one man's life – a talented pianist whose dreams were crashed by a trauma he experienced before his final musical exam. His whole world crashed, he has regressed and became ill. Without knowing this story and without talking to this man, I wouldn't be able to take his portrait or the picture would not be as convincing or telling a story.
Below is another screen shot of a mosaic portrait I'm working on this week.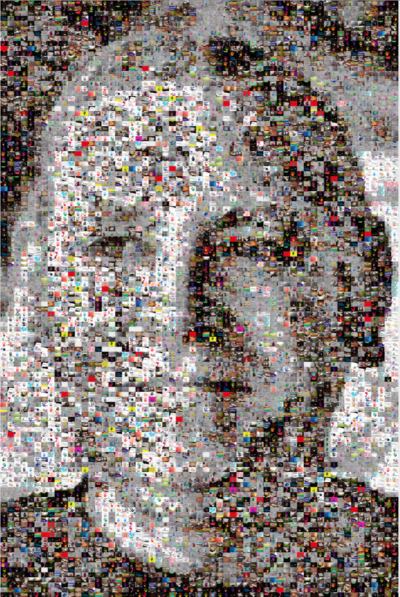 __________________________________________________________
Under the Floorboards
http://www.unitingcareballarat.com.au/events-2/under-the-floorboards
UnitingCare Ballarat begins a unique artistic project, Under the Floorboards, with the first of 12 artist residences commencing on Monday 30th July. Under the Floorboards is a collaborative project in which renowned Western District artists will create works based on their experiences at one of the diverse programs provided by UnitingCare Ballarat. The project will culminate in a gala event with an art auction and performance of the works in October 2013 and the proceeds will provide funding for the services.
The City of Ballarat Arts & Cultural Development is a project partner with UnitingCare Ballarat, extending opportunities for quality arts experiences to all members of the community and providing significant professional development opportunities to local & regional artists.
ABC Ballarat is the project media partner.